Three Billboards Outside Abu Dhabi - An Art Gallery on a Highway in the Middle of the Desert
When Find Art Experts attended the Art Dubai international art fair several weeks ago, we also decided to plan a road trip and drive from Dubai straight to the newly opened Louvre Abu Dhabi. We quickly discovered that along the way there was no need to play any road-trip games like the childhood favorite, "I Spy" to keep us entertained.
Much to our delight and amazement, a drive-by "highway gallery" sits in the middle of the desert alongside the 85-mile stretch of busy road en route from Dubai to Abu Dhabi.  Before arriving at our destination at the Louvre Adu Dhabi, we were able to view three important works from the museum collection showcased on 30 by 20 foot billboards. We didn't have to squint an eye to see masterworks such as, Vincent van Gogh's Self Portrait,  the sarcophagus of Egyptian princess, Henuttaway, or Piet Mondrian's Composition With Blue, Red, Yellow and Black. To enhance the experience, you can tune into Emarat FM (95.8 FM) to hear a 30 second description of each work of art from a curator. All this without even shelling out a single dirham!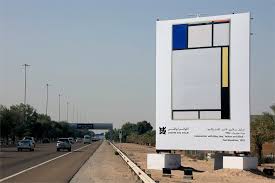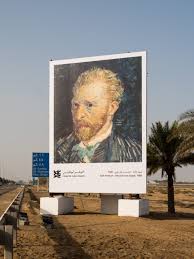 This initiative, in collaboration with the Department of Culture and Tourism, was created "to reinforce the role of art in elevating everyday life into something beautiful and memorable." #findartexperts #louvreabudhabi  #highwaygallery  #artdubai